So... once again, tonight's show was very cool. There were some people that were there a half hour before the show began which was really nice. To have folks there waiting for me to arrive even though I'm such a small fish in the Deviant sea actually meant a lot. So when I went online tonight, I got right to the point. Aen the Artist from Deviant Art won the "You Guess It, You Get It" contest tonight, and it was Red Monika from the Battle Chasers...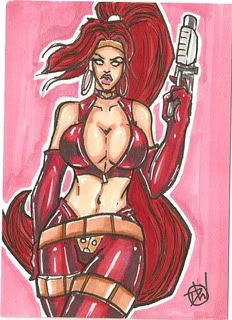 Next I did 2 other sketches, one of an 8.5 x 11 colored pic of the Tick, which was tonight's sketch jam, and also another sketch card of Starfire of DC Comics.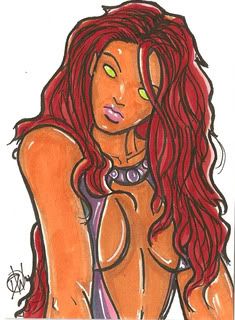 So I hope that folks will participate and spread the word about the show. I have always had fun doing it, and tonight is no different. It was a great show tonight. Much better than last week in my opinion. Let me know what you guys think if you see this blog post!
Talk to you later!
Ian W.